We've rounded up 10 stellar projectors that will make your home theater snazzier than your wildest dreams—which will really come in handy this winter while we're stuck inside. Check them out while they're on sale.
Prima 1080p HD Pocket Projector, on sale for $799
This incredible projector is as light as an iPhone 7s Plus, so you can turn every moment into a standalone multimedia experience, no matter where you roam.
PIQO Powerful 1080p Mini Projector, on sale for $279.99 (64% off)
This powerful projector will stun you with the sharpest picture you've ever seen from a device like this—a picture it projects to a massive 240″.
CINEMOOD 360 Bundle: First Interactive Projector with 360 Motion Capability Plus Free Cover, on sale for $399 (20% off)
This gadget is designed to be the world's first 360-degree capable, interactive projector without plugs, cables, or cords.
4K HD DLP Pocket Projector, on sale for $299.99 (39% off)
This mini projector will cast whatever is on your phone into a large 120″ picture without taking up much space. Plus, you can connect it with Bluetooth!
Kodak Luma 150 Portable Wireless HD Projector, on sale for $219.99 (12% off)
This projector has earned itself 4.1 out of 5 stars on Amazon because it's just that good. With DLP technology, simple touch controls, and near-universal device compatibility, you can't miss.
Kodak Luma 75 Portable 1080p HD Pocket Projector, on sale for $189.99 (5% off)
If you're looking to watch HD videos in up to 1080p resolution on a 16:9 screen with a range of up to 100″, this one's your guy.
Epson EX5260 Wireless XGA 3LCD Projector (Certified Refurbished), on sale for $419.99 (33% off)
Get performance you can depend upon and remarkably easy setup with this wireless portable projector and enjoy bold, vibrant images even in well-lit offices and conference rooms.
Epson PowerLite 1780W LCD Projector (Certified Refurbished), on sale for $519.99 (30% off)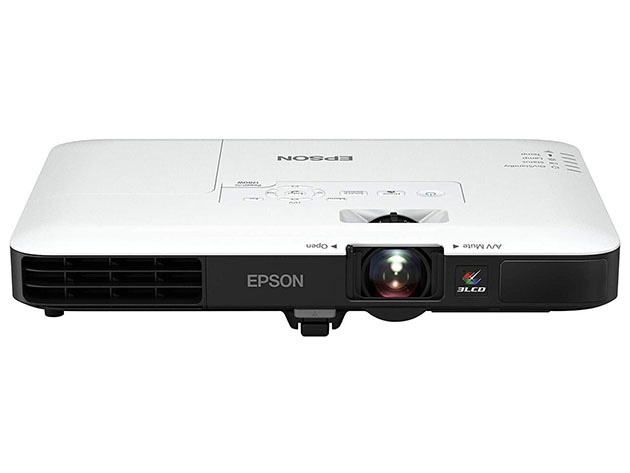 With 3,000 lumens of brightness, combined with a 10,000:1 dynamic contrast ratio, this projector will beat ambient light for a crisp, beautiful image every single time.
AAXA BP1 100-Lumen nHD Speaker Projector, on sale for $143.99 (12% off)
Enjoy huge, vivid visuals, and crystal clear music with this multitasking device! With 60″ projection, a 12W speaker, and Bluetooth technology, this projector will make any blank wall a full-on theater.
AAXA 600-Lumen Full HD DLP Pico Projector, on sale for $377.99 (5% off)
Streaming from your device to the big screen is now possible with this Bluetooth projector's 1080p Full HD Resolution, 120″ display, and 2W speaker.
Prices subject to change.
View original post